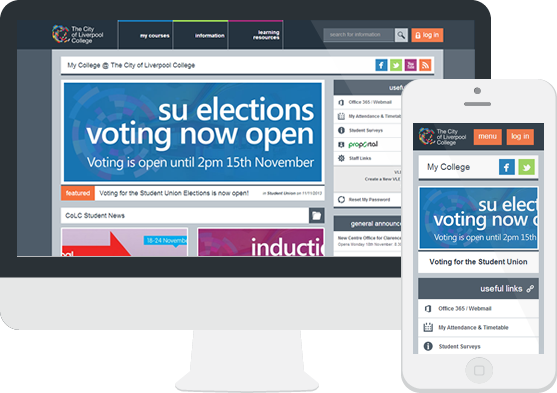 My College @ The City of Liverpool College
My College - Student Intranet and VLE for The City of Liverpool College.
A mobile responsive Moodle 2.4 theme, custom My Courses page, innovative tabbed course formats, custom blocks, deep integration with other online college systems.
Integrated with a responsive Wordpress theme, custom widgets and Student Union voting plugin.
More Details
Student Intranet & VLE Framework
Moodle
Wordpress
Plugins
Course Formats
Social Stream
This was 12-month project to transform The City of Liverpool College's Student Intranet and VLE, producing a system that better suits the needs of students and teachers.
The new Moodle-based VLE is modern and engaging, with a responsive layout that is usable on all devices. The VLE has a completely redesigned course format with separate sections for course information, files, assignments and reading lists.
Each course also contains it's own social stream, where students and teachers can share anything. Teachers can also choose to have hashtags pulled in directly from Twitter.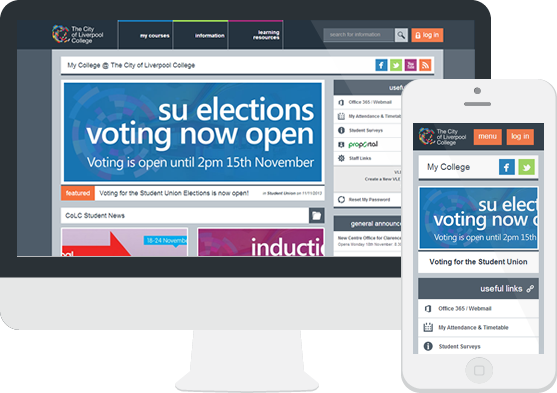 Student Intranet Website
The project began by auditing the existing website and content, and holding staff and student consultation sessions to identify areas for improvement.
The Student Intranet area of the new My College website is based on Wordpress, I created a fully responsive theme plus several custom plugins, including a voting system for the college's Student Union. There is also an innovative drop-down menu layout, designed to present a more logical and intuitive arrangement of the vast amount of content.
Moodle Based VLE
After consultation sessions with students and teachers a concept for the new VLE layout was created. One of the main issues I was asked to address was the need to separate out course pages into sections to make vital content and functions easier to navigate.
The new tabbed course format contains the following sections…
Course Information - standard Moodle topics layout
Social Stream - custom learning community & social media integration
Course Files - central files area
Reading List - integrated with Heritage library system
Assignments - custom assignments list and grade book
Demo Videos
To get a feel for how the new VLE works, please view the following short videos. Part of a series of tutorial videos created using Camtasia Studio, these demonstrate some of the custom functionality added on top of the new course format.